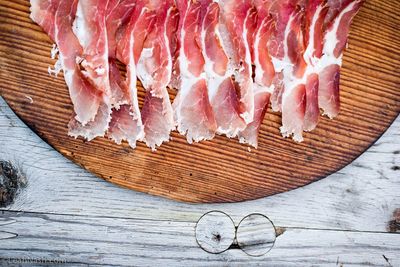 Beer-Braised Pork Belly
3 pounds skin-on, boneless center-cut pork belly
Kosher salt and freshly ground black pepper
2 tablespoons vegetable oil
1 star anise pod
2 whole cloves
1 tablespoon coriander seeds
1 teaspoon fennel seeds
2 12-oz. bottles stout or porter
2 cups unfiltered apple juice or apple cider
1 large onion, thinly sliced into rings
4 medium carrots, peeled, cut on a diagonal into 1" pieces
¾ cup coarsely chopped dried apricots
½ cup (1 stick) unsalted butter
1 medium shallot, finely chopped
Fresh lemon juice
Finely grated peeled horseradish (for serving)
Preheat oven to 250°. Using a very sharp knife, score pork in a tight crosshatch pattern to form ½" diamonds, cutting through fat but stopping at flesh. Season with salt and pepper, massaging into cuts.
Heat oil in a large heavy pot over medium-high (if belly doesn't fit, cut in half crosswise). Cook pork skin side down, turning once, until browned all over, 5–8 minutes per side (be careful, fat will splatter). Transfer to a plate.
Pour off all but 2 Tbsp. drippings from pot, add star anise, cloves, and coriander and fennel seeds, and cook over low heat, stirring, until spices are fragrant, about 30 seconds. Add beer and apple juice, scraping up browned bits. Add pork along with onion and carrots, adding water if needed to cover. Bring to a simmer, cover pot, and transfer to oven. Braise pork 3 hours. Add apricots and braise until pork is very tender but not falling apart, 1–2 hours more.
Transfer pork, skin side up, to a rimmed baking sheet. Place vegetables and apricots in a large bowl; keep warm. Increase oven temperature to 475°; roast pork until skin is brown and very crisp, 25–35 minutes (the crispier, the better).
Meanwhile, pour braising liquid into a large saucepan and skim off fat. Bring to a boil; reduce heat and simmer until reduced by two-thirds, 25–35 minutes.
Heat butter in a small saucepan over medium-low, stirring often, until it foams, then browns, about 5 minutes. Add brown butter and shallot to braising sauce; season with lemon juice, salt, and pepper.
Cut pork into 8 pieces; serve with sauce, vegetables, and some horseradish.
Party Ready Pork Roast
2 3-lb. bone-in pork loin roasts with chine bone attached, fat trimmed to ¼" thick
1 Tbsp. black peppercorns
1 Tbsp. fennel seeds
2 tsp. crushed red pepper flakes
1 tsp. ground cinnamon
3 Tbsp. Diamond Crystal or 5¼ tsp. Morton kosher salt, plus more
½ cup (1 stick) unsalted butter
3 heads of garlic, cut in half crosswise, divided
6 large sprigs thyme, divided
5 medium leeks, tough outer layer removed, white and light green parts only, rinsed, cut crosswise into 1"-thick rounds
3 lb. small Yukon Gold potatoes
¾ cup extra-virgin olive oil
2 bunches Tuscan kale, ribs removed, leaves torn into large pieces
2 Tbsp. apple cider vinegar
Flaky sea salt


Lightly score fat cap of each roast in a 1" crosshatch pattern, being careful not to slice into meat.
Toast peppercorns and fennel seeds in a small dry skillet over medium heat, shaking pan occasionally, until fragrant and just beginning to smoke, about 4 minutes. Transfer to spice mill or mortar and pestle. Let cool slightly. Add red pepper flakes and cinnamon and finely grind.
Using a skewer or paring knife, poke several holes into meat on all sides (this will help the seasoning penetrate; don't be afraid to puncture the meat deeply). Season roasts with 3 Tbsp. Diamond Crystal or 5¼ tsp. Morton kosher salt, then rub ground spice mixture all over. Wrap tightly in plastic wrap and chill at least 8 hours.
Unwrap roast and let sit at room temperature 1 hour before cooking.
Place a rack in lower third of oven; preheat to 275°. Cook butter, one half head of garlic, and 1 thyme sprig in a small saucepan over medium-low heat, stirring often, until bubbling and fragrant but not browned, 5–6 minutes. Remove from heat and cover to keep butter warm.
Toss leeks, potatoes, oil, and remaining garlic heads and 5 thyme sprigs in a large roasting pan; season with kosher salt. Place pork on top of vegetables and brush all over with some garlic butter. Roast, basting with garlic butter every 30 minutes or so and stirring vegetables, until an instant-read thermometer inserted into center of pork registers 120°, 75–105 minutes. Transfer pork to a cutting board. Tent pork with foil. Let rest at least 45 minutes or up to 3 hours.
Check potatoes for doneness; they should give no resistance when poked with a fork (this will vary depending on the size of your potatoes). If they're still firm, you'll need to cook them longer, along with the leeks and everything else in the roasting pan. Increase oven temperature to 500°. Cover pan with foil and roast until potatoes are tender and garlic is golden, 20–30 minutes longer (start checking after 10 minutes).
If resting pork for the maximum 3 hours, turn off oven and remove foil from roasting pan. After meat has rested, preheat oven to 500°, add kale and vinegar to roasting pan, and toss to coat. Arrange pork on top of vegetables and roast until pork is deeply golden brown and an instant-read thermometer inserted into center registers 130°, 10–20 minutes (or possibly longer if you've rested your pork the full 3 hours). Let everything rest in pan 15–20 minutes.
Transfer pork to a cutting board. Using tongs, transfer vegetables to a large platter, reserving pan juices. Carve meat off bones, then slice crosswise ½" thick. Arrange over vegetables. Spoon reserved juices from pan over meat (there's a ton of flavor in them that shouldn't be left behind!). Season with sea salt.

Do Ahead:

Pork can be seasoned 2 days ahead. Keep chilled.
Pan Roasted Brined Pork Chops
1/2 cup kosher salt
1/2 cup sugar
1 teaspoon juniper berries
1/2 teaspoon whole black peppercorns
1 head of garlic, halved crosswise, plus 2 unpeeled cloves for basting
2 large sprigs thyme
1 2-inch-thick bone-in pork chop (2 ribs; about 1 1/4 lb.)
2 tablespoons grapeseed or vegetable oil
3 tablespoons unsalted butter
Flaky or coarse sea salt
Bring 2 cups water to a boil in a medium saucepan. Add kosher salt, sugar, juniper berries, peppercorns, halved head of garlic, and 1 thyme sprig; stir to dissolve salt and sugar. Transfer to a medium bowl and add 5 cups ice cubes. Stir until brine is cool. Add pork chop; cover and chill for at least 8 and up to 12 hours.
Preheat oven to 450°. Set a wire rack inside a rimmed baking sheet. Remove chop from brine; pat dry. Heat oil over medium-high heat in a large cast-iron or other oven-proof skillet. Cook chop until beginning to brown, 3-4 minutes. Turn and cook until second side is beginning to brown, about 2 minutes. Keep turning chop every 2 minutes until both sides are deep golden brown, 10-12 minutes total.
Transfer skillet to oven and roast chop, turning every 2 minutes to prevent it from browning too quickly, until an instant-read thermometer inserted horizontally into center of meat registers 135°, about 14 minutes. (Chop will continue to cook during basting and resting.)
Carefully drain fat from skillet and place over medium heat. Add butter, 2 unpeeled garlic cloves, and remaining thyme sprig; cook until butter is foamy. Carefully tip skillet and, using a large spoon, baste chop repeatedly with butter until butter is brown and smells nutty, 2-3 minutes.
Transfer pork chop to prepared rack and let rest, turning often to ensure juices are evenly distributed, for 15 minutes. Cut pork from bones, slice, and sprinkle with sea salt.